"Helping Hand" of the Month
Anuradha Bakshi's Project WHY
Because it makes that little difference...
Click here to read HelloLife.org's Spotlight February 2004: An interview with Anuradha
For Anuradha, social work is a means of empowerment. It implies standing behind people, and letting them stand on their own. Born an Ambassador's daughter and raised in luxury in world capitals, her journey truly began when her parents died in 1992, plunging her into grief and introspection. Lost for answers, she became a near physical wreck, was diagnosed with "spondylitis", and had to wear a collar. Soon after this she founded the Sri Ram Goburdhun Trust, named after her father, and decided to do something to help people. She began by delivering nutritious biscuits to needy children. But somehow, it did not seem to be enough.
She wore a collar for the next several years, until one day in 2001 an acquaintance took her to a healer in the Giri Nagar slums of New Delhi. The lady, a poor Nepalese woman, said "Your collar is a decoy and leads you away from what you should be doing. Get rid of it and start examining yourself through involved work for the needy." This piece of advice changed Anuradha's life. The collar came off, and Project WHY was born after a chance encounter with Manu, a physically and mentally challenged young man.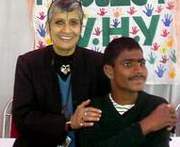 Manu lived on the street, dirty and neglected. The neighbours fed him, but in the way one would feed an animal. Children threw stones at him. No one touched him, no one cared for him. When things became too much, he let out the most desolate cries. Plagued with the question of "WHY" there so many destitute people in the world with no one to care for them, Anuradha rented a hut and began to care for Manu. Soon other parents began bringing their disabled wards to her. A wealthy friend bought her a shanty and the Sri Ram Goburdhun Trust was established in a permanent home.
Anuradha began to get some answers to her question of WHY Manus happen. They happen because poor adults are without hope and their children will forever remain out of the 'good' jobs loop. Because schooling for the poor, where it does exist, begins with the presumption that they can never be taught the core skills that good jobs need. Project WHY began offering real education to slum children. Available to all is the immensely popular English speaking course. There is a computer centre that started with machines donated by friends. Today there are over 500 children taught by 35 teachers at Project WHY. Children going to the afternoon schools come to Project WHY in the mornings and the morning schoolers come in the afternoon. Attendance is near 100% and enthusiasm for learning bubbles through. Beneficiaries range in age from toddlers to students taking the XII exam. Teachers are almost entirely people raised in the slums; they need to have passed Class 8 at the minimum to teach at Project WHY, but many are graduates and there is even one with a Masters. There are about fifteen children with various handicaps, who are ferried in Project WHY's three wheeler (the only transport!), washed, fed and taught. The monthly budget of Rs.85,000 goes mostly to meet teachers' salaries (between Rs.1500 and Rs.3000) and rentals for five shacks that serve as classrooms. So Project WHY is creating a cadre of slum-based teachers, trained to be creative and humane.
Anuradha's dream is to not have to depend on the government or other agencies for funding, but to generate funds through well wishers for the time being, and to reach a day when Project WHY is able to generate its own funds to run all its education and community development activities. Working towards the fulfillment of this dream is the returnToNature initiative which markets organic products to generate revenue for Project WHY and help provide viable economic alternatives to urban migrants and their children. The aim of the project is thus manifold: generating revenue, creating a new broad based income generation activity in both the urban and rural context, and encouraging a return to the habitat of origin for the urban slum migrant. Delhi is full of people from Bihar (a poor state in India) who have left their homes because there is no infrastructure, no jobs, and no land for them there. Incidentally, Anuradha herself is a Bihari Bhumiyar descending from an indentured labourer who shipped out to Mauritius from Bihar over a century ago!
The returnToNature initiative (also see Project Return) started when Anuradha organised a cooperative of Giri Nagar residents to raise and market Pongamia pinnata saplings. Families raise between ten and thirty saplings in every available space that they have. Handcrafted pongamia oil-based organic soaps and jute products are now available for trail and sale through the website of the returnToNature initiative.
Start today, become a Helping Hand Yourself!
Click here to see how you can help Project WHY help children. You could sponsor a slum child's education programme, sponsor school fees for a Lohar child's class X examination, or contribute to the cost of specialised care and vocational training for disabled children. Cheques made in favour of Sri Ram Goburdhun Charitable Trust can be mailed to:

Anuradha Bakshi
C-15, Chiragh Enclave
New Delhi 110 048

You can even buy organic products (See returnToNature) and help provide viable economic alternatives to urban migrants and their children.
Project WHY barely has funds for the next two months, but the morale remains high! Besides funds, what would be most helpful to Project WHY would be a volunteer computer trainer to teach IT skills to the children, and an experienced volunteer to develop a marketing plan for products from the returnToNature initiative.
Anuradha Bakshi may be contacted at anugoba@yahoo.co.in
See http://www.projectwhy.org for more information on Project WHY
See GoodNewsIndia's article on Anuradha Bakshi
(Anu thanks DV Sridharan of GoodNewsIndia who has been a tremendous help in getting Project WHY to where it is now)