Did you know?
The combined DevNetJobs Global Network reaches out to over 0.6 million international development colleagues.

Over 16,000 international development recruiters post their jobs on DevNetJobs.org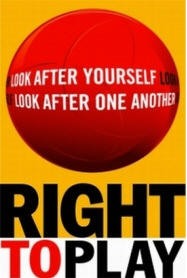 Program Manager, First Nation Youth Leadership Program

Location: Toronto or Thunder Bay, Canada
Last Date: August 31, 2011

Right To Play
Look After Yourself, Look After One Another


JOB POSTING: "Program Manager, First Nation Youth Leadership Program" CLOSING DATE: August 30th, 2011

Organization: Right To Play International
Department/Division: Canadian National Office
Work location: Toronto and/or Thunder Bay
Authorized to Work in: Canada (i.e., Canadian citizen or permanent resident)

Background: Right To Play is an international development organization that uses specially-designed sport and play programs to improve health, build life skills, and foster peace for children and communities affected by war, poverty and disease. Working in both the humanitarian and development context, Right To Play has projects in more than 20 countries in Africa, Asia, the Middle East and South America. Right To Play is a global-scale implementer of Sport for Development and Peace programs and takes an active role in driving research and policy development in this area and in supporting children's rights. Job Summary: To support Right To Play projects in 30 First Nation communities across Ontario, Right To Play Canada is recruiting one Program Manager for the First Nation Youth Leadership Program. Reporting to the Deputy Director, Education and Aboriginal Affairs, the Program Manager will be responsible for the on-going supervision and support of 3 Program Officers, who supervise 30 Community Mentors in First Nation communities across Ontario. This will be a one-year full-time position based in either Toronto or Thunder Bay. As a Program Manager, the overall goal is to offer guidance in program design and delivery, to liaise with funding and implementing partners, and to offer support, supervision and administrative guidance to 3 Program Officers. This position will require frequent travel to various First Nations throughout Ontario.

For more information on Right To Play's Youth Leadership Program in First Nation communities, please refer to
www.righttoplay.com/PLAYProgram .

Responsibilities:
1. SUPPORT THE DESIGN AND ADAPTATION OF THREE YOUTH LEADERSHIP MODULES (% of Time: 10%): The Program Manager will help design the resources that Community Mentors use to guide their program implementation.
 Work with a team of education, leadership and First Nations experts to review and adapt three youth leadership modules for implementation in 30 First Nation communities.
 Research other leadership organizations to determine best practices applicable to the Youth Leadership Program.
 Offer on-going insight and advice upon reviewing drafts of program manuals.
 Support the preparation and dissemination of toolkits, training manuals and checklists for each leadership module.

2. DEVELOP AND MAINTAIN PARTNERSHIPS (% of Time: 20%): The Program Manager is responsible for maintaining existing partnerships and developing new strategic partnerships.
 Research organizations that could offer implementation, funding and in-kind support.
 Liaise with key implementing partners on an on-going basis.
 Develop and maintain strategic implementing, funding and in-kind partnerships.
 Report to donors on a regular basis.

3. PROVIDE ON-GOING GUIDANCE AND SUPERVISION TO THREE PROGRAM OFFICERS (% of Time: 20%): This includes delegating tasks and ensuring work plans and responsibilities are completed in a timely and concise manner.
 Host regular supervisory meetings with Program Officers to ensure their goals are being met and they are receiving the support they require.
 Finalize work-plans for 3 Program Officers.
 Trouble-shoot programmatic and human resource issues that arise in First Nation communities in relation to the Youth Leadership Program.
 With the support of Program Officers, ensure the completion of 30 partnership agreements with 30 communities.

4. SUPPORT THE DESIGN AND DELIVERY OF WORKSHOPS FOR STAFF (% of Time: 10%): The Program Manager will work with other Right To Play staff to help plan, lead and assess two Community Mentor workshops and 1 Youth Leadership Symposium.
 Create hands on, activity based training using the Youth Leadership Modules to develop the content.
 Send out pre-training questionnaires for all Community Mentors.
 Plan, lead and assess two Community Mentor workshops for 30 Community Mentors and 1 Youth Leadership Symposium.
 Support the creation of post workshop reports for the organization and for partners.

5. MONITORING AND EVALUATION (% of Time: 20%): The Program Manager is responsible for ensuring that all monitoring and assessment tools are used and reported on regularly.
 Finalize Monitoring, Evaluation and Reporting toolkit for Community Mentors that can be used to assess and enhance the program.
 Collect completed M&E tools from Program Officers on a regular basis and summarize them into comprehensive reports for partners and donors.
 Work with M&E partners to ensure that additional indicators of success are measured on a regular basis; ensure timely reporting on progress against program strategies, with information on achievements, challenges and areas of support needed.
 Oversee data collection, disaggregated for all demographics including sex and age where needed.
 Visit First Nation communities on a regular basis to offer support and supervision.

6. MAINTAIN PROJECT BUDGETS (% of Time: 20%)
 Monitor community expenditures against projected spending.
 Support the management of a $1,000,000.00 budget.
 Work with Finance team to generate financial reports for donors.

MINIMUM EDUCATION LEVEL:
 Minimum University Degree completed in the any of the following areas: political science, sociology, indigenous learning, outdoor recreation, education, international development.
 Trained or willing to be trained in how to effectively facilitate workshop sessions for young people aged 10-30 years old.

MINIMUM EXPERIENCE:
 5+ years experience in program management and supervising staff – must be comfortable in supervising a team of three Program Officers and supporting a team of 30 Community Mentors in First Nations communities.
 3-5 years experience in budget management, planning and reporting.
 3-5 years experience working with First Nations Communities.
 Experience in designing and facilitating leadership and or youth-related training sessions for large groups.
 Experience with monitoring and evaluation of community development projects and programs; familiarity with and experience in quantitative and qualitative participatory research methods.
 An understanding of humanitarian, development, and gender issues particular to First Nation communities.

COMPETENCIES:
 Highly motivated and committed to program success.
 Strong attention to details when planning.
 High degree of organization.
 Strong verbal and written communication skills.
 Good team work ethic, and also capable of working independently.
 Demonstrates a flexible attitude; highly adaptable.
 Able to work under pressure.
 Maintain a sensitivity of cultures.
 Accurate and timely reporting.
 Coaching and mentoring skills.
 Strong planning and coordination skills.
 Decision making skills.
 Willingness and ability to travel (sometimes on short notice).

IT/SOFTWARE/TECHNICAL SKILLS:
 Budgeting.
 Personnel management – must be confident in supervision of 30+ staff.
 Analytical and written skills, including research and the writing of proposals and reports.
 Experience working in First Nation Communities.
 Knowledge of Microsoft programs.
 Able to navigate internet and email use.
 Familiar with office equipment.
 Attention to detail in planning large events.
 Ability to manage budgets.
 Knowledge of completing program reports and collecting various program statistics.

LANGUAGE SKILLS: Speaking, reading, and writing fluency in English.
Salary: We offer a competitive salary
Employment Start Date: September 12th, 2011
Contract Duration: Eleven (11) month contract, with possibility of extension

Contact:
If you are interested in applying for this position, please send your resume and cover letter to: hr4@righttoplay.com and kindly quote "Program Manager, First Nation Youth Leadership Program" in the subject line. Please indicate your salary expectations in the cover letter.

While we thank all applicants for their interest, only those selected for interviews will be contacted.
Right To Play - Human Resources Philosophy
Right To Play is an international humanitarian organization that uses the power of sport and play to improve the lives of children in the most disadvantaged areas of the world. We believe that all children have the right to play.
Right To Play's human resources philosophy reflects the spirit that drives the organization. The philosophy influences the kind of people who are interested in working for us, the kind of people we recruit and how we treat our people.
Right To Play's culture is entrepreneurial, where employees are encouraged and empowered to perform in the context of rapid international growth, and to aim for the highest quality and adopt global best practices in delivering our programs.
Our employees are global citizens who are passionate about improving the world we live in through value-based grassroots activities. We work on the ground with and through people in the communities we serve to improve the lives of their children. By having a constant presence in these communities and helping them develop the resources and skills they need to help themselves, we aim for sustainable, long-term development.
To translate our vision into action, our philosophy for delivering our programs is "LOOK AFTER YOURSELF, LOOK AFTER ONE ANOTHER". Our employees are the backbone of this delivery, and the philosophy supports them by defining the desired outcomes of our human resources philosophy. This means that we pay competitive salaries, provide comprehensive benefits, encourage employee social events, provide development opportunities and a great work environment.
We measure the success of this philosophy by indicators such as employee satisfaction surveys and staff turnover rate, as well as the overall success of Right To Play.

Was this job of interest to you? Receive 20-25 jobs & consultancies via email each day. Subscribe to 3 Months DevNetJobs Value Membership. For only USD 44 for 3 months. Click here to proceed