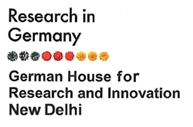 Admin/Programme Assistant (PART time)
German House for Research and Innovation (DWIH)
Location: New Delhi
Last Date: February 6, 2011
Email: cherrie.mallins@dfg.de (Reference: DevNetJobsIndia.org)



This is a re-advertisement. The candidates who applied earlier will be automatically considered and need not apply again.

The scope and significance of the cooperation between German and Indian re-searchers has increased substantially in the past years. To keep pace with the grow-ing trend it is necessary to increase the awareness of the research environment in the partner countries.
The German Federal Foreign Office and the Federal Ministry of Science and Higher Education requested the German Research Foundation (DFG) and the German Academic Exchange Service (DAAD) to coordinate the implementation of a German House for Research and Innovation, New Delhi (Deutsches Wissenschafts- und Innovationshaus, DWIH) on behalf of the German science and academic institutions/ foundations which wish to be represented in the DWIH. DWIH New Delhi is expected to be launched towards the last quarter of 2011. For the task of setting up DWIH New Delhi, we are seeking additional staff and invite applications for an

Admin/Programme Assistant (PART time)

for the German House for Research and Innovation (DWIH), New Delhi
starting 1 March 2011

Preference will be given to candidates willing to familiarize themselves with science management in general since this part-time position will probably be converted into a full-time one once DWIH is fully functional. Hence, we would prefer a candidate willing to associate with DWIH on a longer-term basis.

Position Responsibilities:

o Support of the Senior Programme Officer (DWIH) and Public Relations Officer (DWIH) in all their tasks concerning setting up of DWIH New Delhi.
o All tasks involving coordination and support leading up to the launch of DWIH New Delhi
o The initial work will focus on the Inaugural Event for the launch of DWIH New Delhi
o In the framework of the Inaugural Event the work will include (but is not limited to) maintaining databases of invitees, coordination of invites, confirmations, participation, and also administrative support in the implementation and execution of the Inaugural Event

o For all day-to-day work related matters the candidate will report to the Senior Pro-gramme Officer (DWIH). However, the disciplinary reporting will be to the Director (DFG India Office).

o Support in handling day-to-day programme-related tasks of DWIH New Delhi
o Support in preparation and execution of the DWIH Event Calendar
o Support in the execution of various DWIH events
o Support in the core activities of DWIH including Press & Marketing re-quirements

o Once the position becomes full-time (when DWIH is fully functional) the candi-date will handle everyday administrative tasks of DWIH New Delhi
o Processing of bills and maintenance of accounts
o Liaison with service providers like hotels, caterers, travel agents etc.

Profile and competences:

o Academic qualification, minimum Bachelors degree or equivalent in any area
o Proficiency with Microsoft Word, Excel, Outlook and basic internet operations
o Work experience, preferably in an international context
o Capability of handling assignments independently
o Capability of proactive and logical thinking
o High commitment, flexibility, team-work orientation
o Proficiency in English and Hindi. Knowledge of German desirable.

Employment conditions:

o The position will be transferred under the auspices of the DWIH New Delhi as soon as DWIH becomes operative. Hence, candidates willing to work for the DWIH for a longer period will be given preference.
o The salary level will be based on experience and in line with the salary regulations of local Embassy staff.
o The DFG will provide complete job training for the successful candidate in order to intensify his/ her knowledge of German science and innovation landscape.
o The place of work is New Delhi. Travel to Germany for training and coordination purposes might be necessary.

Please send your applications to cherrie.mallins@dfg.de latest by 6 February 2011.