Additional Programme Director
Convergence of Agricultural Interventions in Maharashtra (CAIM) program
Location: Office of PMU, Amravati
Last Date: March 19, 2011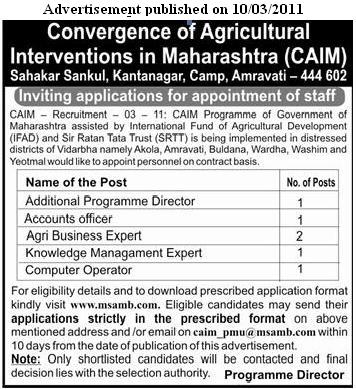 IMPORTANT NOTES

1. If candidate is willing to apply by email; he/she should send the application only in ".doc"format file. Other any file formats (.jpg,.png,.pdf etc) are not acceptable.
2.Candidate need not send any other document except the filled application in prescribed formats.

Application form for "Additional Programme Director": http://devnetjobs.tripod.com/caimpmu2.pdf