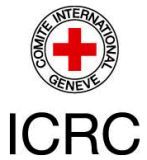 Senior Medical Assistant
International Committee of the Red Cross
Location: Delhi with very frequent field visits, especially to Chhattisgarh State
Last Date: March 6, 2011
Email: icrc.hr2011@gmail.com (Reference: DevNetJobsIndia.org)
The International Committee of the Red Cross (ICRC) is an impartial, neutral and independent organization whose exclusively humanitarian mission is to protect the lives and dignity of victims of armed conflicts and other situations of violence and to provide them with assistance. It has delegations in over 60 countries around the world and activities in more than 80 countries. For more information, visit www.icrc.org
The International Committee of the Red Cross ("ICRC") seeks a senior, experienced professional for the below mentioned position based in Delhi.
1.
Position:
Senior medical assistant
Starting date: Immediately
No. of positions: 1
Location Office in Delhi with very frequent field visits, especially to Chhattisgarh State.
2.
Scope of the Job
· To assist the Delhi-based Medical Coordinator for the overall coordination of ICRC health projects in India, especially in Chhattisgarh State.
· To actively support and coach the health teams in the field through regular visits.
3.
Responsibilities
· To be the focal point for the First Aid (FA) training program in different states, contributing to its planning and implementation processes.
· To supervise and support the teams in charge of managing 2 Medical Health Units (MHU) and 2 Primary Health Centres (PHC) in Bijapur and Dantewara districts in Chhattisgarh State.
o To actively support / coach the health teams in the field through regular visits
o To participate in the definition of activities / priorities / organisation / planning.
o To monitor and evaluate the projects and propose corrective measures when needed.
· To report in English -field trip reports, Minutes of Meeting with interlocutors, general summary reports on programs- and to participate in the writing of the health parts of different internal reports (WOR, QHTR, BFR, PFR, etc.) and external reports towards Indian authorities.
· To replace the medical coordinator in his absence.
4.
Qualifications, Skills and Experience:
· Medical doctor, MBBS or equivalent, male or female, with a Master degree in Public Health.
· Oral and writing fluency in English.
· Minimum 5 years experience in public health programs planning / coordination.
· Good written and oral communication skills with ability to realise structured and synthetic reports in English.
· Good organizational + management + planning + supervision skills.
· Sense of diplomacy towards colleagues and external stakeholders.
· Ability to initiate and develop First Aid training programs.
· Previous experience in primary health care programs, ideally in rural conflict-affected zones.
· Willingness and skills to train and coach medical personnel in the management of programs and respect of medical protocols.
· Flexibility & availability for realizing frequent field trips to remote conflict affected areas (around 50% of the time out of Delhi).
· Previous experience with international organisations is a real asset.
Salary and Benefits: According to experience and within the ICRC salary scale.
5. PLEASE APPLY IMMEDIATELY by emailing a cover letter explaining in detail why you think you are suitable for this post, together with a full curriculum vitae, two names or letters of reference to icrc.hr2011@gmail.com. Please use "Application for the post of Senior medical assistant , Delhi "as the subject of your email.
Only complete applications will be reviewed.
It is preferred that the resumes are submitted via email. If emailing is not possible, send the resumes to:
HR Department
Regional Delegation in New Delhi
International Committee of the Red Cross
47 Sunder Nagar, 100003 New Delhi
The last date of receiving the applications is 6th March 2011.