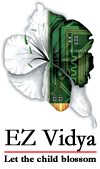 Candidates to work in School Education
EZ Vidya
Location: Chennai
Last Date: November 6, 2010
Email: bala@ezvidya.com (Reference: DevNetJobsIndia.org)
Seeking candidates to work in School Education!

WE NEED:

Candidates with experience in school education, teaching, curriculum development and related domains for the post of "Management Trainees (freshers) / Associates / Senior Associates" for our consulting division.

Job would involve –
Strategizing client related projects in school education

Conceptualizing & implementing training programmes

Client liaison

Project Management
Ability to travel (5 to 6 days per month) is a must. Exposure to technology would be an added benefit. Compensation would be commensurate with educational background and experience.
Those interested may please mail in resumes to bala@ezvidya.com
ABOUT US:
EZ Vidya is an educational services provider headquartered in Chennai, with presence in over 300 schools across India. We also partner Wipro, IBM, DELL, and American India Foundation in their socio-educational initiatives.
For more details, refer www.ezvidya.com