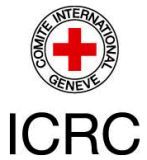 Admin Assistant
International Committee of the Red Cross (ICRC)
Location: Bijapur (Chhattisgarh)
Last Date: May 22, 2011
Email: icrc.hrcare@gmail.com (Reference: DevNetJobsIndia.org)
International Committee of the Red Cross
___________________________________________________

N E W D E L H I R E G I O N A L DE L E G A T I O N

Vacancy Notice

The International Committee of the Red Cross (ICRC) is an impartial, neutral and independent organization whose exclusively humanitarian mission is to protect the lives and dignity of victims of armed conflicts and other situations of violence and to provide them with assistance.

The ICRC Regional Delegation is looking for an enthusiastic and motivated person for the following position:

1. Position
Job title: Admin Assistant
Location: Bijapur (Chhattisgarh)
Starting date: Immediately

2. Scope of Job

• Perform various administrative functions like basic accounting, premises and maintenance.
• Provide admin related support to all the departments
• Applies financial rules for purchases, bills approval on accounting vouchers and invoices
• To handle the tasks related to welcoming the visitors and look after the travel and accommodation arrangements
• To assist the colleagues in their daily tasks
• To control and attribute day-to-day maintenance work for the office and residences
• To ensure liaison / facilitate communication and briefing of guards as requested
• To ensure the smooth running of all the office administration/ accounting related day-to-day activities in absence of the administrator.

3. Professional requirements
* Academic qualifications: Any Graduate degree, preferably in commerce.
* Work experience: Min 2 years similar work experience, preferably in a humanitarian organisation.
* Languages: Fluent in written and spoken English and Hindi, knowledge of other local languages is an advantage.
* Computer skills: Good computer skills (word, excel, accounting software)

4. Personal qualities
Sense of responsibility, organisational skills, Team spirit. Preparedness to travel in all parts of the country occasionally.

Applications should specifically cover qualifications, and particulars of present and past employment. Present emoluments should be specified. Only short listed candidates will be invited for a written test & interview.

Please send your application and curriculum vitae to the HR Department, icrc.hrcare@gmail.com .

Please mention the subject as "Application for the post of Admin-Assistant (ICRC- Bijapur-Chhattisgarh)".
The last date of receiving applications is 22nd May 2010.