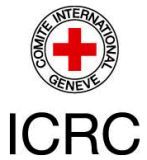 Administrator
International Committee of the Red Cross
Location: Srinagar
Last Date: March 21, 2011
Email: icrc.humanresources@gmail.com (Reference: DevNetJobsIndia.org)
International Committee of the Red Cross

N E W D E L H I R E G I O N A L DE L E G A T I O N

Vacancy Notice

The International Committee of the Red Cross (ICRC) is an impartial, neutral and independent organization whose exclusively humanitarian mission is to protect the lives and dignity of victims of armed conflicts and other situations of violence and to provide them with assistance. It has delegations in over 60 countries around the world and activities in more than 80 countries. For more information, visit www.icrc.org
The International Committee of the Red Cross ("ICRC") seeks a senior, experienced professional to support the activities of sub-delegation office of SRINAGAR.

1. Position: ADMINISTRATOR
Starting date: Immediately
No. of positions: 1
Location Srinagar

2. Scope of the Job

- Administrative responsible for a small to medium structure
- Responsible for administration department
- Negotiates & Maintains various contacts with external and up to high-level interlocutors
- Assumes responsibility for complex files
- Manages the admin team
- Daily follow up of HR issues if requested
- Daily follow-up of financial activities if requested
- Contributes in the elaboration of the budget and other financial reporting

3. Responsibilities (Brief Description)

- Responsible for General administration, accounting, personnel management, Information technology nad management, Premises and maintenance, Logistics, Welcome service and overall office management of Srinagar
- Support to the Head of Sub-delegation (HoSD), participation in meetings, establish the organisational chart of the sub delegation.
- Be aware of the security rules.
- Respect the security rules and brief others also to follow them.
- Source of information to HoSD on different subjects.
- Making estimate of monthly expenditure, getting accurate funds from Delhi, daily cash control, petty cash & major cash purchases, working advance management, salary advance,
- Purchasing material from the market following the financial rules and regulations.
- Monthly accounting closing using SUN system and preparing the accounting bills for Manila.
- Bank reconciliation and back account management.
- Complete management of IT problems, networking, lotus notes, server, internet, etc.
- Installation of all ICRC software.
- Briefing colleagues on IT issues.
- Taking care of computers, printers, fax machine, photocopier and other IT equipments.
- Taking care of the logistics set up of the sub delegation.
- Monitoring vehicles, generators, making fuel reports, and vehicle damage reports.
- Negotiating with other party in case of vehicle accident.
- Purchasing equipments & material from the best available suppliers after due negotiations.
- Taking care of security of the premises, replacing the broken material.
- Monitoring the housekeepers, electrician, gardener and the security guards in their respective tasks.
- Negotiating with the landlord on matters related to rentals, repairs of the premises.
- Responsible of new/additional premises: security, housekeeping, repairs, electric supply, and other major works.
- Monthly food basket.
- Responsible for travel and hotel Arrangement and Reservation for Guests.
- Arranging Hotels, Conference Halls for Meetings, Seminars.
- Organising Staff Parties and Get Together.
- Making administrative arrangements for the beneficiaries of family visits assistance programme (purchase of travel tickets, arranging hotel accommodation, etc.) and liaising with colleagues in Jammu and Delhi.
- Detainees assistance and other items in accordance with ICRC standards & procedures.
- Packing and handling of material and making it available on time with due quality and quantity.
- Ensuring smooth flow of assistance programme.
- Providing support to the Expatriates with regards to administrative tasks.
- Respects and observes the staff regulations of the ICRC in the Delegation.
- The employee may be asked to perform duties and task not covered in this job description as well as to provide support to other departments when necessary

4. Qualifications, Skills and Experience:

- University degree, preferably in business and/or administration or equivalent
- Minimum 4 years work experience in a similar function
- Fluent in written and spoken English
- Very good computer skills
- Capacity to work independently
- Management skills
- Rigorous and trustful person
- Exemplarity
- Negotiation skills...


Salary and Benefits: According to experience and within the ICRC salary scale.

5. PLEASE APPLY IMMEDIATELY by emailing a cover letter explaining in detail why you think you are suitable for this post, together with a full curriculum vitae, two names or letters of reference to icrc.humanresources@gmail.com . Please use "Administrator for the position of Administrator/ Srinagar" as the subject of your email.

The last date of receiving the applications is 21st March 2011.