Did you know?
The combined DevNetJobs Global Network reaches out to over 0.6 million international development colleagues.

Over 12,800 international development recruiters post their jobs on DevNetJobs.org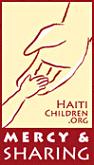 Director of Development

Location: Colorado, USA but open to working remotely
Last Date: January 3, 2011
Director of Development
Based in Colorado but open to working remotely

About Mercy & Sharing

It is a story that begins each time a child is born into unimaginable poverty in Haiti and is told over and over again from the slums of Port-au-Prince to the rural villages. It's a story of hunger so severe that children cannot attend school or sleep peacefully at night. It's a story of homelessness, violence on the streets, unsafe drinking water, debilitating diseases, family abandonment and neglect. These conditions disproportionately impact the most vulnerable members of Haitian Society, the children. As their heartbreaking story continues so must the story of Mercy & Sharing.

Mercy & Sharing has been operating in Haiti for over 16 years. They employ more than 180 Haitian in their operations. The passion and mission of Mercy & Sharing is simple; to provide hope and opportunity to the abused, abandoned and disabled children of Haiti. They do this through a variety of relief and development programs which are funded predominantly by private contributions.

Position Description

The Director of Development will be instrumental in growing Mercy & Sharing's development program. The individual selected will serve as Mercy & Sharing's first-ever Director of Development to help provide leadership, vision, direction and management to the entire range of development efforts undertaken by Mercy & Sharing. Mercy & Sharing has experienced phenomenal success; the new Director of Development will help Mercy & Sharing expand from where they have been and find new, exciting opportunities for growth. Susie Krabacher, Co-Founder and President and Connie O'Murray, Executive Director will provide guidance to the Director of Development. While Mercy & Sharing is based in Aspen, CO, the Director of Development has the option of working remotely from the location of their choosing. This is an entrepreneurial opportunity to make a difference in the lives of underserved children in Haiti.

Ideal Experience

• A minimum of 10 years of development experience.
• Demonstrated ability to identify, cultivate, solicit and steward donors of high wealth.
• Ability and willingness to find and reach out to new prospects from all constituencies, including corporations and foundations with an interest in Haiti.
• A strong record as an effective, team-oriented leader and a thoughtful, diplomatic mentor.
• Demonstrated an organized and strategic approach to fundraising with significant experience in managing, developing and coordinating successful fundraising efforts.
• Proven ability to conceptualize and describe funding needs in a way that is compelling and comprehensive to the potential donor.
• Experience developing solid working relationships with Board members, and other high level volunteers and donors.
• A track record as an effective communicator who is articulate and persuasive in written and verbal communications.
• Demonstrated ability to multi-task, be organized and flexible in a demanding environment, and meet deadlines and prioritize job responsibilities.


Angela Schulze
Manager, Executive Search Services
Development Resources, inc.
1601 N Kent Street, Suite 1200
Arlington, VA 22209, USA
www.driconsulting.com
angela@driconsulting.com

Was this job of interest to you? Receive 20-25 jobs & consultancies in your email each day via our 3 Months DevNetJobs Value Membership. For only USD 44 for 3 months. Click here to proceed