Did you know?
The combined DevNetJobs Global Network reaches out to over 0.6 million international development colleagues.

Over 12,800 international development recruiters post their jobs on DevNetJobs.org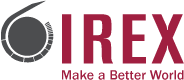 Media Consultants

Location: Maputo, Mozambique
Last Date: January 15, 2011

POSITION: Media Consultants, Mozambique
LOCATION: Maputo, Mozambique
REPORTS TO: Chief of Party
DIVISION: Media Development
ELIGIBILITY: Open

ABOUT IREX
IREX is an international nonprofit organization providing thought leadership and innovative programs to promote positive lasting change globally. We enable local individuals and institutions to build key elements of a vibrant society: quality education, independent media, and strong communities. To strengthen these sectors, our program activities also include conflict resolution, technology for development, women and youth.

Founded in 1968, IREX has an annual portfolio of over $60 million and a staff of over 400 professionals worldwide. IREX employs field-tested methods and innovative uses of technologies to develop practical and locally-driven solutions with our partners in more than 100 countries.

SUMMARY OF POSITION
IREX seeks candidates to serve as consultants for a media development program in Mozambique. The consultants will provide technical assistance in a range of skill areas required for strengthening the media sector in Mozambique. They may undertake short or longer-term assignments. The positions are contingent on funding.

SUMMARY OF RESPONSIBILITIES:
-Develop and implement activities to support and strengthen the media sector
-Provide training seminars, workshops and in-house consultancies for media outlet
-Develop and maintain effective partnerships with media organizations
-Contribute to monitoring, evaluation and reporting requirements

SKILLS AND QUALIFICATIONS:
-Demonstrated expertise in one or more areas of the media, including journalism, new media technologies, media management and business development, journalism education, community media and production
-Regional experience preferred
-Portuguese language skills required

To Apply

Please visit http://www.irex.org/careers to apply. Please supply a resume, cover letter, and three-year salary history when applying.



Was this job of interest to you? Receive 20-25 jobs & consultancies in your email each day via our 3 Months DevNetJobs Value Membership. For only USD 44 for 3 months. Click here to proceed