Did you know?
The combined DevNetJobs Global Network reaches out to over 0.6 million international development colleagues.

Over 12,800 international development recruiters post their jobs on DevNetJobs.org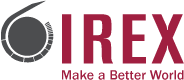 Grants/Finance Manager (Media), Mozambique

Location: Maputo, Mozambique
Last Date: January 15, 2011

POSITION: Grants/Finance Manager (Media), Mozambique
LOCATION: Maputo, Mozambique
REPORTS TO: Chief of Party
DIVISION: Media Development
ELIGIBILITY: Citizens of Mozambique

ABOUT IREX
IREX is an international nonprofit organization providing thought leadership and innovative programs to promote positive lasting change globally. We enable local individuals and institutions to build key elements of a vibrant society: quality education, independent media, and strong communities. To strengthen these sectors, our program activities also include conflict resolution, technology for development, women and youth.

Founded in 1968, IREX has an annual portfolio of over $60 million and a staff of over 400 professionals worldwide. IREX employs field-tested methods and innovative uses of technologies to develop practical and locally-driven solutions with our partners in more than 100 countries.

SUMMARY OF POSITION
IREX seeks a Grants/Finance Manager for a media development program in Mozambique. The Grants/Finance Manager will support the Chief of Party in meeting program objectives and will be responsible for oversight of project finances and grant-making activities. This position, which will be based in Maputo, is contingent on funding.

RESPONSIBILITIES AND DUTIES
-Assure that the program meets all IREX, USAID and Government of Mozambique requirements relative to USAID funds accountability and operations within Mozambique
-Negotiate agreements with sub-grantees and subcontractors, and provide financial managing and monitoring of agreements
-Provide finance support to grantees
-Ensure that all procurement is in compliance with U.S. government regulations
-Monitor project budgets and provide required reporting
-Coordinate with IREX Finance and Grants teams at the home office
-Travel to regional project sites within Mozambique for grant monitoring.

QUALIFICATIONS
-Five or more years of responsible work as a financial manager, grants manager or controller preferred
-Experience providing finance and grants management for USAID programs strongly preferred; prior experience in finance and grants management for international organizations or donors required
-Strong interpersonal skills, ability to interact effectively with partners, donors and other relevant stakeholders and personnel associated with this program
-Fluency in Portuguese and English required

TO APPLY

Please visit www.irex.org/careers to apply. Please supply a resume, cover letter, and three-year salary history when applying.

Was this job of interest to you? Receive 20-25 jobs & consultancies in your email each day via our 3 Months DevNetJobs Value Membership. For only USD 44 for 3 months. Click here to proceed