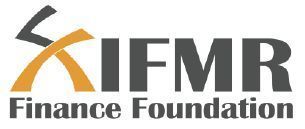 Head
IFMR Finance Foundation
Location: Chennai
Last Date: July 30, 2011
Email: aswin.kumar@ifmr.co.in (Reference: DevNetJobsIndia.org)
Head- IFMR Finance Foundation
IFMR Finance Foundation (IFF) is an Indian non-profit whose mission is 'to ensure that every individual and every enterprise has complete access to financial services'. We do this by addressing key gaps in the Indian financial system that are constraining access. We believe in the deeply transformative power of finance and that a high-quality financial system is consistent with universal access.
We are part of the IFMR group of companies and research centres.
IFF has made important contributions to the financial system in India over the three years of its existence, notably:
1. Formulated guidelines for Indian Pension Fund Regulatory Development Authority's distribution of its pension product for low-income households ( http://bit.ly/npslite )
2. Participating in the development of the domestic capital market, particularly for securitised debt instruments.
3. Conceptualised a new model for financial services delivery in remote rural India called the Kshetriya Gramin Financial Services (KGFS). IFF has partnered with Prof. Rohini Pande of Harvard University to evaluate this model
4. Commissioned the first ever randomised evaluation of a micro-credit program. This was conducted by Prof. Esther Duflo and Prof. Esther Banerjee of MIT. The results from this evaluation has significantly improved global understanding of the specific ways in which micro-credit helps customers and where it does not, in the short-term.
We are looking for a Head of IFMR Finance Foundation. S/he would:
a) Direct the research and policy efforts of IFF. This would involve identifying key questions and partners. This requires an in-depth understanding of the Indian financial system architecture, key players, existing policy frameworks and an analysis of the constraints.
b) Ensure outreach – disseminate learning and insights from our work to a group of key practitioners in the Indian financial systems. Write extensively for the IFMR blog ( www.ifmrblog.com ), in Indian media and policy journals
c) Provide strategic inputs to IFMR group companies in order to amplify their advocacy impact in the areas of origination, capital markets development and risk transmission
d) Identify and build key partnerships that will accelerate the achievement of the mission
e) Lead the structuring and implementation of the Annual IFMR Financial System Design Conference.
f) Mentor a team of around five professionals within IFF
Qualifications:
Candidates should have a strong commitment to financial access and a sound understanding of the theoretical underpinnings of financial sector development. S/he should have demonstrated aptitude for building, managing and motivating teams. S/he should have very strong conceptual and communication skills. The work culture at IFF demands intensity and a continuous commitment to expertise. S/he would be a qualified PhD in Economics/Public policy or a M.Sc.in Economics or Finance from a top-ranked university.
S/he would report directly to the Board of IFF and be based in Chennai, India. Compensation will be competitive by domestic benchmarks.
To apply, please send a cover letter and resume to 'aswin.kumar@ifmr.co.in '. Please include the job title 'Head –IFMR Finance Foundation' in the subject line. Applications must be received by July 30, 2011.
IITM Research Park I Phase 1, 10th Floor I No 1, Kanagam Taramani Road Taramani I Chennai – 600 113 I India I http://foundation.ifmr.co.in / I Ph : + 91 44 6668 7000