Consultant to Map Vulnerability of Women and Girls to Trafficking in Seven States of India
United Nations Development Fund for Women (UNIFEM)
Location: New Delhi
Last Date: July 10, 2010
UNIFEM South Asia Regional Office
D-53 Defence Colony
New Delhi, India - 24
Fax: 91-11-24622136
Website: www.unifem.org.in

Starting date : 1 July 2010
Closing date : 10 July 2010
Announcement No. UNIFEM/SRO/SSA/2010/004
Position : Consultant to Map Vulnerability of Women and Girls to Trafficking in Seven States of India
Organization : United Nations Development Fund for Women (UNIFEM)
Duration : 60 Working Days over Two Months Period
Type of Contract : SSA – (Short Service Agreement)
1. Context: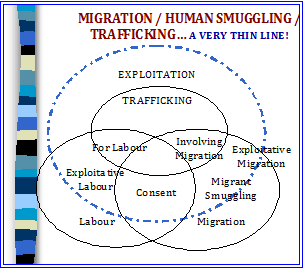 Human-trafficking (or modern slavery), a form of coercive migration for exploitative labour, commercial sexual exploitation and other illegal purposes,<![if !supportFootnotes]>[1]<![endif]> has reached alarming proportions across India. Trafficking in women and girls is rampant and its toll on human suffering is evident throughout the country.<![if !supportFootnotes]>[2]<![endif]> The United Nations has described human trafficking as a gross violation of human rights. Human trafficking is increasingly being recognized as a complex process, a systematic economic phenomenon, involving the interplay of several contributing factors and vulnerabilities that are created by social, economic and in some cases, political factors. The diagram<![if !supportFootnotes]>[3]<![endif]> here explains further the thin line between migration, human smuggling and human trafficking and the other related issues that emerge.
The concerns of the Government of India to address the situation and prevent trafficking are evident from the serious effort towards implementation of the Immoral Traffic Prevention Act (1956)<![if !supportFootnotes]>[4]<![endif]> and allocations of budgets for the same. India is also beginning to see increased collaboration between the government, UN agencies, law enforcement agencies and the civil society organizations in rescue and rehabilitation of the victims / survivors of trafficking. Furthermore, the Indian Government has demonstrated its commitment by ratifying the SAARC Convention (January 2002) on preventing and combating trafficking among the women and children. Therefore, the time to act on this issue is now.
UNIFEM is the development fund for women at the UN dedicated to advancing women's rights and achieving gender equality globally. As the spearhead agency on this issue, UNIFEM has a singularly strong record on working to end violence against women (including trafficking) – a core part of its mandate in advancing the human rights of women. A Life Free of Violence: Unleashing the Power of Women's Empowerment and Gender Equality: Strategy 2008–2013 of UNIFEM, outlines preventing and responding (protecting) as key domains of intervention to counter violence against women which includes trafficking (refer to Box 01).<![if !supportFootnotes]>[5]<![endif]>
Box 01: Two Domains of Intervention
Preventing violence against women and girls focuses on transforming discriminatory social attitudes, norms and practices, through sustained multi-faceted and mutually-reinforcing interventions that tackle root causes, protective and risk factors
Responding with a view to securing protection, quality comprehensive care, enforcement of laws and access to justice for violence survivors, and ending impunity for perpetrators
Substantial work has been undertaken in India on anti-trafficking initiatives, but these interventions have largely focussed on prosecution and law enforcement addressing it from the criminal justice perspective. UNIFEM intends to focus its attention on Prevention Initiatives concentrating on the high source districts of the country.
Across this region, women and girls are trafficked within their own countries or across international borders against their will, in what is essentially a clandestine slave trade. The number of trafficked persons is difficult to determine as the corruption, violence and the Mafioso surrounding the practice render an estimate of its magnitude virtually impossible. The CEDAW concluding remarks (2009) clearly points out at the lack of sensitive and appropriate data on the issue of violence against women in the entire region. Even the Ministry of Women and Child Development's (Government of India) Annual Report for 2009 suggests that there is an urgent need for further research and academic pursuit on the issue of human trafficking. The recently concluded anti-trafficking programme evaluation of UNIFEM acknowledges the good work done in 2005 with regard to research on the issue of human trafficking but also recommends further work to be undertaken in this regard.
2. Need for a Consultant:
To take the anti-human trafficking work forward UNIFEM responded to the European Instrument for Democracy and Human Rights (EIDHR) – Call for Proposal and submitted a project proposal that has been successfully selected for funding. The project is entitled:
"To support the Government of India's efforts to stop trafficking in women and girls through community action at the Panchayat Level in partnership with the National Commission for Women"
This programming action will be implemented in partnership with the National Commission for Women. As per the approved European Commission Proposal the selected states for programme implementation are Andhra Pradesh, Bihar and West Bengal. But UNIFEM intends to expand its funding base further and work in at least seven States of India responding to the need on the ground. Other than the ones mentioned above these states are Assam, Karnataka, Maharashtra and Orissa. <![if !supportFootnotes]>[6]<![endif]>
UNIFEM is looking for a consultant to undertake a quick desk based study (secondary research and data analysis) on and validation missions to all these seven selected states in India and substantiate the understanding of maximum vulnerability of women and girls to trafficking in these particular states. This is a follow up on the countrywide study "Trafficking in Women and Children", India by Institute of Social Sciences on behalf of the National Human Rights Commission in 2005 which still remains the most comprehensive study to be ever undertaken in the country.
By commissioning this study UNIFEM's effort is to bridge the information gap that exists with specific focus on these particular states and inform the implementation of its anti-trafficking programme in these states and also enable government and civil society organisations to plan and position their programmes better. This is also to corroborate the justification of locating UNIFEM's prevention programme efforts in these particular states.
3. Tasks:
The consultant will develop a research framework and design in coordination with the UNIFEM programme team before initiating the study.

The consultant will undertake a detailed desk review of secondary data from UNIFEM's anti-trafficking documentation, research and documentation work that has come out of UNODC, UNICEF and ILO, existing academic research, the abovementioned NHRC study, NGO reports and studies undertaken in these particular states, media reports that have come out of these States and at the national level, information available on the internet, etc.

The consultant will also analyse the census and other government data that link with human trafficking (migration and HIV and AIDS).

The consultant will develop a stakeholder list who she / he will interview as respondents in her validation missions in these seven states of the country and develop questionnaires for each group of stakeholders.

The consultant will undertake validation missions in all the seven states and interview relevant stakeholders from the government, NGOs, shelter home managers and survivors of trafficking, etc.

The consultant will then develop an overall report on the basis of her findings of the desk research and validation mission and submit the same to UNIFEM for approval and finalisation.
4. Deliverables:
1. A comprehensive research framework for the study.
2. A stakeholder analysis and different sets of questionnaires for the stakeholders.
3. A comprehensive (and detailed) study report for approval and finalisation in hard and soft copy.
4. The consultant will also develop a strong PowerPoint presentation and dissemination plan that details tracking evidence of use that will be shared at a stakeholders meeting in Delhi.
5. Time Frame:
15th of July to the 15th of October 2010.
Research framework submitted = 20th of July 2010 (which will be approved by UNIFEM staff through deliberations by the 25th of July 2010).
Stakeholder analysis and questionnaires submitted = 25th of July 2010 (which will have to be approved by UNIFEM staff through deliberations by the 30th of July 2010).
All seven validation missions from the period between 1st to the 31st of August 2010.
First draft of the Study Report submitted = 10th September 2010.
Final Study Report submitted = 31st September 2010 (through inputs, feedback and deliberations with UNIFEM staff members).
Total number of working days = 60 days.
6. Experience and Skill Set:
Education:

Masters Degree in Gender Studies, International Development Business Administration, Public Administration, Economics, Political Sciences, Social Sciences or related field.

Experience:

At least ten years of relevant experience at the South Asia regional or international level. Extensive experience in human rights based programming, development research and programming of anti trafficking.

Desirable:

Experience of working within the UN system as a researcher / consultant. Experience of successfully working on Research Studies individually or as a team.

Language requirement:

Fluency in English and an Indian language is a must.
7. Consultancy fees:
Fees<![if !supportFootnotes]>[8]<![endif]> will be commensurate with the experience of the applicant. Please mention the expected per day consultancy rate in your application letter.
The assignment will be supervised by the Anti-trafficking Programme Officer of UNIFEM, SARO, under the guidance of the Senior Policy Adviser.
8. Application Process:
Please send in your detailed resume, a completed UN P11 form along with a sample of a programme document prepared by COB Tuesday, the 10th of July 2010 to registry.unifem.in@unifem.org.
9. Criteria for selection:
Based on the above specified experience and skill set the emphasis with regard to criteria for selection will be given to consultants who have actually undertaken research work on anti-trafficking. Consultants who have worked with the UN system will be given special preference.
Interested applicants should apply for the vacancy, using the "Personal History Form - P 11" and the latest CV.
Application to this vacancy should be sent to registry.unifem.in@unifem.org.. Please insert Announcement Number in the Subject of the E-mail. Applications without the Vacancy Number or with the incorrect Vacancy Number will not be accepted.
NOTE : Only short-listed candidates will be contacted.
<![if !supportFootnotes]>
---
<![endif]>