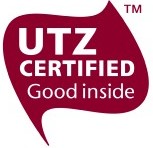 Sustainability Standards & Certification Coordinator Coffee & Tea

Location: The Netherlands
Last Date: May 20, 2011

Sustainability Standards & Certification Coordinator Coffee & Tea 2011

Do you want to be involved in the international dynamics of sustainability, where ideals and pragmatism meet?

UTZ CERTIFIED is one of the largest sustainability programs for coffee, tea and cocoa in the world. Brands which have committed to buying UTZ CERTIFIED products are worldwide market leaders who buy their raw materials in large volumes. Sara Lee, Heinz, MARS and IKEA are, amongst many others, UTZ CERTIFIED partners.

The UTZ CERTIFIED label stands for an improved position of farmers on the market because they have been trained in improving agricultural and business practices which leads to a better quality product, higher productivity and a more efficient use of means. Environmental and social aspects are also equally addressed within the UTZ CERTIFIED sustainability program. This way, farmers become more professional which enables them to negotiate a better price for a better product.
Coffee beans, cocoa beans and tea leaves travel a long road from farm to cup. UTZ CERTIFIED has a unique online traceability system which can trace products back through the production chain, creating traceability and transparency. Through the traceability system UTZ can safeguard that products have been sustainably sourced, giving brands and consumers the assurance they need.

Since its foundation in 2002, UTZ CERTIFIED has developed into a multi-commodity program for coffee, cocoa, tea and palm oil with the ambition to expand into other products in the coming years. UTZ CERTIFIED is headquartered in Amsterdam with representatives in the US, Japan and Switzerland, and works closely with its partner network in Africa, Asia and Latin America. UTZ CERTIFIED is looking for a:

Sustainability Standards & Certification Coordinator for the Coffee/Tea program

The UTZ Standards & Certification Department (six persons) is responsible for developing and continuously improving the sustainability criteria UTZ CERTIFIED stands for, as well as for managing the UTZ certification program and monitoring and evaluation activities. The UTZ codes are voluntary standards that are developed in a transparent, credible and balanced multi-stakeholder approach. As a Sustainability Standards & Certification Coordinator you will be assigned specific geographical areas to manage. You handle multiple priorities and deadlines in a very dynamic and international work environment.

RESPONSIBILITIES:
∑ Coordinate revision process of UTZís sustainable production codes
∑ Develop and revise Chain of Custody requirements for sustainable commodity supply chains
∑ Facilitate local documents for origin countries
∑ Participate in content discussions and assess relevance for standards of sustainability issues
∑ Implement and monitor the international UTZ certification procedures
∑ Support the launch and implementation of the certification body in the UTZ CERTIFIED Portal
∑ Assist local partners and coordinate certification workshops in origin countries
∑ Participate in impact monitoring of the certification program

The Sustainability Standards & Certification Coordinator reports to the Certification Manager.

CANDIDATE REQUIREMENTS:
∑ MSc in agronomy, environmental science, international development or related
∑ Experience in certification and strong understanding of the issues therein
∑ Good knowledge of sustainability and agricultural and social standard systems
∑ Good knowledge of smallholder production systems
∑ Understanding of commodity supply chains and the various needs and interests in market dynamics
∑ Experience with multi-stakeholder processes
∑ Work experience in (sub)tropical countries and in the development sector
∑ Result oriented, analytical and a good eye for detail
∑ Self managing team player with excellent intercultural skills
∑ Fluency in verbal and written English and good knowledge (verbal and written) of Portuguese and Spanish. French or Vietnamese is a plus.

UTZ CERTIFIED offers you a challenging position in a dynamic and international working environment, with entrepreneurial drive and an innovative approach.

Employment is based upon minimum 32 hours/week. We can only consider candidates who have a work & residency permit for the Netherlands/EU. The position implies close co-operation with our partners in Europe, Africa, Asia and Latin America.

Please send your application to application@duurzaamheidwerkt.nl before 20 May 2011, mentioning Sustainability Standards & Certification Coordinator Coffee & Tea in the subject line. For more information about this position please contact Annelies Pijnenburg: +31 (0) 6 46 68 01 91. More information about UTZ CERTIFIED: www.utzcertified.org .

Was this job of interest to you? Receive 20-25 jobs & consultancies in your email each day via our 3 Months DevNetJobs Value Membership. For only USD 44 for 3 months. Click here to proceed