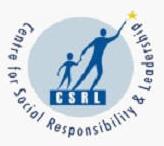 Program Officer
Centre for Social Responsibility and Leadership
Location: Delhi
Last Date: January 24, 2011
Email: csrljobs@gmail.com (Reference: DevNetJobsIndia.org)
ORGANISATION : CENTRE FOR SOCIAL RESPONSIBILITY & LEADERSHIP
VACANCY: Program Officer
LOCATION: Delhi
CSRL is seeking a full time expert in resource mobilization by developing and implementing strategies, concepts/proposals advocacy tactics, business plans and action plans. The incumbent will be supposed to develop a cutting edge project initiative. To this end the incumbent will support the Executive Director & Director who have the primary responsibility to generate partnerships, raise funds and execute the programs by giving tangible results. In addition the incumbent will develop CSRL's resource base through links with donors, business plan development, support and proposal development. The job involves frequent travelling within Delhi with the objective of resource mobilization among a range of donors, foundations, corporations and govt. All interested candidates to mail their latest CV to csrljobs@gmail.com. For more details kindly visit the website www.csrl.in
ROLE AND RESPONSIBILITY
(a) Overall responsible for Project Management.
(b) Programme coordination with staff as well as finance department.
(c) Networking and liason with government department, PSU's etc.
(d) Resource mobilization from other resources.
(e) Conduct monthly review and planning meetings.
(f) Supportive supervision and develop team concept.
(g) Ensure programme activities are carried out with quality and time line.
(h) Interact with media and ensure positive CSR activities.
(i) Develop good MIS system in project area.
(j) Maintain transparency at every level.
(k) Ensure efficient sponsorship management.
(l) Devote at least 70% of the working days in field.
(m) Develop monthly plan and ensure all activities are done with quality.
(n) Collect data from field; develop the domain specific report submission to the programme manager.
(o) Timely submission of all reports to the programme manger as & when required.

COMPETENCIES & SKILL REQUIRED
Good managerial and documentation skills along with proficiency in computer skills.
Should possess good proficiency in English and Hindi.

ESSENTIAL QUALIFICATION
Candidates with post-graduation degree in sociology/social work from reputed organization<![if !supportLineBreakNewLine]>
<![endif]>
EXPERIENCE:
Minimum 03 years experience in project implementation field. Along with that preference will be given to person working in the area of CSR.