Did you know?
The combined DevNetJobs Global Network reaches out to over 0.6 million international development colleagues.

Over 12,800 international development recruiters post their jobs on DevNetJobs.org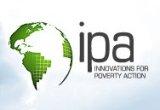 Country Director

Location: Sierra Leone
Last Date: March 22, 2011

Position: Country Director
Country: Sierra Leone
ID#: 100373IPA

Innovations for Poverty Action (IPA) is seeking qualified applicants for the position of Sierra Leone Country Director to provide strategic vision and leadership to IPA's Sierra Leone operations. IPA is a US-based non-profit organization with operations in over 30 countries, and is a leader in conducting randomized controlled evaluations of anti-poverty programs worldwide. IPA also plays a growing role in scaling up programs that have been proven to work through rigorous evaluation. IPA is currently running eight projects in Sierra Leone, focused on agriculture, rural finance and markets, infrastructure, community-driven development, and health and community reconciliation. IPA Sierra Leone is headquartered in Freetown.

The Country Director (CD) will manage all IPA operations in Sierra Lone and reports directly to the US-based Managing Director. The CD will provide overall management support for all IPA Sierra Leone operations, including, but not limited to: strategic planning; negotiations with government bodies; management of personnel; legal and financial oversight; and planning for new and existing research projects, policy advocacy, and any future scale-up implementations. The role provides a unique opportunity to build on existing management experience, and to develop organizational structures and systems for growing programs, while also being involved in cutting-edge research and policy advocacy.
Responsibilities
Organizational Development and Systemization of IPA Sierra Leone Administration and Management
IPA Sierra Leone is a relatively new IPA country office, and the CD will manage the process of Implementing and improving IPA Sierra Leone's policies, procedures, and systems to ensure an efficient, legal and smooth-running operation. Responsibilities include:
• Hire and manage project and administrative staff
• Develop strategic plans for finance, human resources, logistics, and other management systems
• Develop and oversee accounting systems and approval of finances
• Develop and oversee human resource systems and procedures
• Coordinate meetings and trainings for Sierra Leone staff
Risk Mitigation and Management

The CD will be charged with taking proactive steps to safeguard the organization's reputation and mitigate against the types of risks that an organization of our size and involvement faces. Responsibilities include:

• Build relationships between IPA and the key individuals, institutions and other stakeholders at the local and national levels relevant to our work
• Oversee logistical operations including procurement, safety, and security
• Oversee and ensure organizational legal compliance
Coordination and Management of External Relations

The CD will need to effectively coordinate external relations across projects and drive a defining strategy for IPA Sierra Leone's external relationships as these become more central to the organization's work and success.

• Represent the Sierra Leone office in relationship with Sierra Leone national and local government agencies and partner organizations
Oversight of Operations

The CD will provide management and operational oversight for all research projects. The CD will effectively plan for the organization's needs with regards to multiple projects. The CD will also be charged with legal responsibility for IPA's Sierra Leone country office, providing leadership on all aspects of country-level work, and making key decisions regarding IPA's work in Sierra Leone. Responsibilities include:

• Lead project development and policy advocacy with local researchers, funders, and partner organizations
• Ensure that IPA research is implemented according to quality standards and Principal Investigator direction
• Manage relationships with and provide services to Principal Investigators

Desired Qualifications and Experience

• A minimum of two years of management experience, preferably in a developing country. Candidates with experience in Sierra Leone and a strong in-country professional network are strongly preferred.
• Bachelor's or Master's Degree in economics, public policy, social sciences or related field
• Familiarity and experience with social science field research and quantitative methods
• Experience with and knowledge of financial planning and management
• Excellent multitasking and organizational skills as well as attention to detail
• Flexibility, self-motivation, and an ability to prioritize and manage multiple tasks efficiently
• Ability to work successfully with diverse constituencies and to work independently
• Fluency in English, excellent writing and communication skills

The commitment sought for this position is a minimum of two years, and candidates with longer-term potential will be preferred. The position will start as soon as the right candidate is identified.

To Apply
Complete the J-PAL/IPA common application at http://www.apply.poverty-actionlab.org/apply/login indicating that you are interested in applying for a "Type 3" position. Please note: you are not required to include transcripts or letters of recommendation upon initial submission. After submitting, you can edit your application at any time and may add these materials, if requested.
2. Send an email to jpaljobs@gmail.com , following these instructions exactly:

In the subject line: Put your full name, first (given) name followed by last (family) name.
Attachments: Please attach ONLY your CV.
In the email body: Copy exactly the following position line:
[100373IPA], Sierra Leone Country Director
Please do not include any text besides the position line(s) in the body of the e-mail. Adding extra text will interfere with the processing of your application.

If you are applying to multiple positions, you can put multiple positions lines in the same email. And you may send multiple such emails. However, please do not do this for more than 10 positions per every 6 month period. So, if you put 10 position lines in one email, then that counts as ten. Or if you put 4 in one email, and 6 in another, that also counts as ten.

J-PAL and IPA work closely together to conduct rigorous impact evaluations to test and improve the effectiveness of poverty reduction programs. Only short-listed candidates will be contacted for an interview.

Was this job of interest to you? Receive 20-25 jobs & consultancies in your email each day via our 3 Months DevNetJobs Value Membership. For only USD 44 for 3 months. Click here to proceed