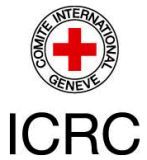 Domestic Staff/ Housekeeper (Female) - 2 Positions
International Committee of the Red Cross
Location: New Delhi
Last Date: October 28, 2010
Email: icrc.humanresources@gmail.com (Reference: DevNetJobsIndia.org)
International Committee of the Red Cross
_________________________________________________________________

N E W D E L H I R E G I O N A L D E L E G A T I O N

Vacancy Notice
The ICRC Regional Delegation in Delhi is looking for an enthusiastic and very motivated person for the following position:
1. Position
Job title: Domestic Staff/ Housekeeper (Female)
Location: ICRC, Regional Delegation, 47 Sunder Nagar, New Delhi
No. of Positions: 2
Starting date: Immediately
2. Responsibilities
The main tasks include:

Cleaning ( Premises including Washrooms)

Washing & ironing

Laundry

Maintaining security by ensuring the doors and windows are locked
3. Professional requirement
Academy Qualifications: Primary school level
Work Experience: 1-2 years of similar work experience
Languages: Basic knowledge of English
4. Personal qualities
Applicants should have good organisational skills, initiative, tidiness, flexibility and willingness to help in other fields.
Applications should specifically cover qualifications, and particulars of present and past employment. Present emoluments should be specified.
Please send your applications to: icrc.humanresources@gmail.com or to the HR Department, International Committee of the Red Cross, 47, Sundernagar, New Delhi- 110003 by 28th October 2010.