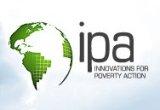 Project Associate for a microfinance project

Location: Naga City, Philippines
Last Date: December 18. 2010

Innovations for Poverty Action (IPA) seeks a qualified applicant for the position of Project Associate for a microfinance project in the Philippines entitled, Agricultural Micro-Insurance: Overcoming Information Problems and Understanding Informal Linkages.
The position offers an opportunity to gain first-hand field management experience in an organization undertaking cutting-edge development research. This position is located in Naga City, Philippines, and the Principle Investigators are Snaebjorn Gunnsteinsson, Chris Udry, and Gharad Bryan.
Project Associates work closely with academic researchers and other field staff to perform a variety tasks including, but not limited to: designing survey questionnaires, conducting qualitative research, running pilot exercise, refining study design and surveying instruments, managing survey teams, negotiating contracts with survey firms, checking and analyzing data, cleaning data and assisting in preliminary analysis, assisting in the writing of project reports and policy memos and coordinating with local partners running the programs being evaluated.
Desired Qualifications and Experience:
• A Bachelor's Degree in economics, social sciences, public policy, or related fields
• Experience living in a developing country is a strong plus
• Excellent management and organizational skills along with strong quantitative skills
• Fluency and excellent communication skills in English
• Flexible, self-motivating, able to manage multiple tasks efficiently, and team player
• Demonstrated ability to manage high-level relationships with partner organizations
• Knowledge of Stata (strongly preferred) or other data analysis software is preferred.
• Familiarity with randomized controlled trials preferred.
We are looking for a commitment period of two years for this position, which we expect to start in or around February 2011
If you are interested, please do two things:
1. Complete the J-PAL/IPA common application (http://www.apply.povertyactionlab.org/apply/login) indicating that you are interested in applying for a "Type 1" position.
2. Send an email to jpaljobs@gmail.com, following these instructions exactly:
In the subject line: Put your full name, first (given) name followed by last (family) name.
Attachments: Please attach ONLY your CV.
In the email body: Copy exactly the following position line:
100279IPAUSA Project Associate, Agricultural Micro-Insurance
Please do not include any text besides the position line(s) in the body of the e-mail. Adding extra text will interfere with the processing of your application.
If you are applying to multiple positions, you can put multiple positions lines in the same email. And you may send multiple such emails. However, please do not do this for more than 10 positions per every 6 month period. So, if you put 10 position lines in one email, then that counts as ten. Or if you put 4 in one email, and 6 in another, that also counts as ten.
J-PAL and IPA work closely together to conduct rigorous impact evaluations to test and improve the effectiveness of poverty reduction programs. Only short-listed candidates will be contacted for an interview.


Was this job of interest to you? Receive 20-25 jobs & consultancies in your email each day via our 3 Months DevNetJobs Value Membership. For only USD 44 for 3 months. Click here to proceed