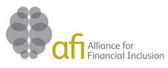 Communications Manager

Location: Bangkok, Thailand
Last Date: February 22, 2011

Alliance for Financial Inclusion
Communications Manager (apply by 22 Feb 2011)
The Alliance for Financial Inclusion (AFI) seeks a Communications Manager to support its communications and outreach program. The officer would report to the Senior Advisor, Innovation and Communication, and work closely with AFIís website manager and knowledge manager.
AFI produces a variety of knowledge products such as publications, reports, opinion statements, videos, DVDs, photo collections, and displays; and maintains an interactive website which is fast becoming a hub for knowledge on policy for financial inclusion. These products and channels are geared towards AFIís members in developing countries, and the wider network of stakeholders working in the field of financial inclusion. The role of the communications manager is to write and prepare documents, multi-media, and other messages, and disseminate these effectively via AFIís international network.
Key tasks include:
∑ Participate in annual communications strategy and target setting, planning, and messaging

∑ Consult with subject matter experts in AFI to move materials into production mode Ė ensure message clarity, and oversee copy editing, translation, graphic design, soft and hard copy production

∑ Create and execute mini-communications plans for the launch and dissemination of new AFI products

∑ Create an annual report outlining all of AFIís achievements each year

∑ Involvement in other key reports and publications development

∑ Development of multimedia collateral such as videos and flash presentations Ė including messaging, storyboarding, developing, and finalization of productions

∑ Build AFIís photo library through the use of photographers documenting AFI activities and policy areas, and by partnering with photographers to obtain permission to use their work

∑ Maintain AFI marketing collateral such as brochures, folders, roll up posters, slide decks, etc

∑ Prepare AFI marketing packets containing publications, slide decks, news articles, etc., to assist travelers and meetings

∑ Maintain up-to-date and on-message content on the AFI website, including weekly news stories

∑ Create and disseminate AFIís monthly digital newsletter to AFI network and partners

∑ Coordinate international media program and maintain press relations
The ideal candidate will have communications or public relations experience in an international setting, and be highly energized and creative to keep pace with AFIís fast moving projects. The manager must have native level written and spoken English. The manager should also be able to propose new modes or products that AFI could utilize to disseminate its knowledge and key messages affectively to its target audiences.
About AFI
AFI is a membership based organization Ė all of its 70 member institutions are financial regulatory or policymaking institutions from developing countries. AFI enables its members to exchange knowledge about policies that work for improving access to financial services for the poor. The AFI network is managed by a small secretariat based in Bangkok, Thailand; is funded by the Bill & Melinda Gates Foundation and administered by the GIZ (German International Cooperation). Find out more: www.afi-global.org
Apply by FEB 22 2011
Apply by visiting the GIZ website jobs section: http://www.gtz.de/en/karriere/stellenmarkt/24996.asp
Enter Job ID: 5598


Was this job of interest to you? Receive 20-25 jobs & consultancies in your email each day via our 3 Months DevNetJobs Value Membership. For only USD 44 for 3 months. Click here to proceed