Did you know?
The combined DevNetJobs Global Network reaches out to over 0.6 million international development colleagues.

Over 12,500 international development recruiters post their jobs on DevNetJobs.org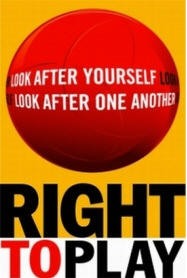 Director Evaluation & Knowledge Management

Location: Toronto, Canada
Last Date: September 30, 2010
Email: hr4@righttoplay.com (Reference: DevNetJobs.org)

Job Posting – "Director Evaluation & Knowledge Management"

Closing Date:

September 30th, 2010

Department:

International Programs

Work location:

Headquarters, Toronto, Canada

ORGANIZATION PROFILE:

Right To Play is the leading international humanitarian and development organization using the transformative power of sport and play to build essential skills in children and thereby drive social change in communities affected by war, poverty and disease. Right To Play creates a safe place for children to learn and fosters the hope that is essential for children to envision and realize a better future. Right To Play's mission is to improve the lives of children is some of the most disadvantaged areas of the world by using the power of sport and play for development, health and peace.

JOB SUMMARY:

The Director Evaluation & Knowledge Management, reporting to the Vice President International Programs, is primarily required to provide an ongoing stream of program evidence that can be communicated to donors, fundraisers, program staff, partners, management and the Board. This role is responsible for guiding and leading all internal and external evaluations at Right To Play. There is a considerable amount of knowledge and scientific expertise required particularly as it relates to working in developing countries. Overseeing a small evaluation team at headquarters, the role will require consultation and collaboration at many levels of the organization.

PRIMARY RESPONSIBILITIES:

Job Responsibility #1: Evaluation

Guide and lead all internal and external program evaluations. Requires full and current knowledge of the context within all Right To Play countries of programming.

Responsibilities include:

•

Evaluation of staff participation in needs assessments of the communities in which we work.

•

Evaluation of staff participation in program design from concept ensuring that evaluation variables are appropriately identified and that donor requirements can be measured.

•

Provides advice and guidance to program staff during program implementation to ensure the highest quality of results.

•

Ensures a system of monitoring is in place to regularly gather data that can be consolidated at organizational level, including data required for the Balanced Scorecard.

•

Oversee the design of any program evaluation within Right To Play (internal and external)

•

Oversee data collection methodologies and actual data collection using the highest scientific rigor possible.

•

Oversee data analysis ensuring accurate representation of findings.

•

Produces full and accurate scientific documentation of all evaluations conducted within RTP including sampling, methodology, data collection, data analysis, limitations,

% of Time: 25

Job Responsibility #2: Dissemination of Knowledge

•

Deep understanding of the communication needs in relation to program results of various Right To Play stakeholders including staff, donors, fundraisers, communications and marketing, executive management and board.

•

Ensure the timely, effective and accurate use of evidence in reporting to each stakeholder group.

•

Work closely with program management and staff to ensure learning acquired through evaluation is built into standards of practice to ensure continuous program improvement.

Collaborate with Right To Play teams to support resource development, effective training delivery, project planning and development, proposal writing and program implementation

•

Prepare papers, reports and articles for external public consumption that may include academic journals, topical magazines, advocacy forums, other NGO's etc.

•

Accurately present Right To Play findings at conferences, forums, special interest groups nationally and internationally

% of Time: 25

Job Responsibility #3: Relationships and Partnerships

Builds and maintains relationships with key evidence-based external organizations and individuals in Right To Play's sectors of operation including:

•

Universities, evaluation organizations, research organizations

•

Think tanks, thought leaders, world experts

•

Development and Humanitarian organizations

•

Right To Play partner organizations

•

Governments

•

Doctoral/Master's thesis students

% of Time: 25

Job Responsibility #4: Evaluation Strategies and Plans

Develops and recommends an evaluation strategy and related plans that ensures critical and timely knowledge acquisition and dissemination that adds strategic value to Right To Play.

•

Develops a 5 year evaluation strategy

•

Develops annual evaluation plans and budgets

•

Assesses industry-wide evaluation trends and standards of practice

•

Recommends a comprehensive program of research that would advance the ability of Right To Play to contribute to the field of knowledge in our sectors of operation.

% of Time: 10

Job Responsibility #5: Team Leadership

•

Provide leadership to the internal evaluation team at headquarters and provides technical guidance to M & E staff in the field.

•

Build the capacity of the team to effectively implement high quality evaluation functions

•

Further develop comprehensive M&E frameworks and systems for international programs and continually refine the framework and systems.

•

Lead, mentor, train and provide technical support to the M&E Team (including Field Offices) to build capacity in M&E systems and to enhance M&E vision and systems that inform and improve performance, while maximizing organizational synergies that support the country strategy.

•

Ensure organizational compliance and achievement of the standards set in the global framework.

•

Assess the capacity of RTP staff and partners with respect to program delivery, evaluation and learning.

For direct reports, has the responsibility and authority to create/revise the position role and responsibility, interviews and selects staff with input from others. Orients, trains, and coaches direct reports (and other staff) as required. Recommends or initiates personnel actions for direct reports such as merit increases and other salary adjustments, promotions, transfers, terminations, and disciplinary actions including performance improvement plans. Completes all performance management activities for direct reports including performance planning, monitoring, and regular performance appraisals.

For indirect reports, provides input to, and veto if necessary, the actions and activities of indirect reports. May be consulted on the design of position, may interview and recommend candidates for the position, may provide input on performance, and will delegate tasks as required. May veto any action that is not aligned with RTP approved culture and policies and local legislation.

% of Time: 15

EDUCATION/TRAINING/CERTIFICATION:

Required (must have):

Ph.D. in Social Sciences or International Development

Training and certification in Monitoring and Evaluation

Desired (asset):

Membership or certification in a professional evaluation association (Canadian Evaluation Society)

Training in project management

EXPERIENCE

•

10-15 years work experience in monitoring and evaluation in the international development context.

•

2 years field experience in developing countries.

COMPETENCIES / PERSONAL ATTRIBUTES:

ACHIEVEMENT

Planning & Organizing

•

Monitors the external environment and recommends appropriate changes to operational plans or the organization's strategic plan.

•

Translates and aligns the organizational strategic goals into concrete operational plans for the department that are 3-5 years into the future. Develops and uses monitoring systems to organize and keep track of performance and progress.

Financial & Business Acumen

•

Establishes budgets that realistically reflect the department's goals.

•

Implements and oversees monitoring and audit procedures to track variation of actual expenditures to budget.

•

Identifies and explores INGO sector funding trends that impact revenue generation opportunities to support long range financial strategies of the organization.

INNOVATION

•

Analyzes the implications of proposals for change and makes authoritative recommendations.

Assesses impact of change and implications to the organization, partners, donors, governments, etc.

•

Is able to work effectively with ambiguity, where full information cannot be known or anticipated or where data is questionable.

LEARNING

•

Ensures the knowledge of the unit is captured, shared with others and used in making new decisions.

•

Seeks out knowledge in various areas of the organization.

•

Ensures that the organization continually builds on its current knowledge base.

SUPPORT

Values & Ethics

•

Understands and behaves in accordance with Right To Play's mission, vision, values, Code of Conduct, Child Protection Policy and other relevant standards.

•

Maintains high personal standards of ethics and integrity and honours commitments.

•

Does not discriminate based on race, sex, colour, national or ethnic origin, religion, marital status, family status, age, sexual orientation or disability; is against harassment and bullying.

Relationship Building/Conflict Resolution

•

Builds and strengthens partnerships and alliances that support strategic interests of Right To Play.

•

Values and recognizes individual and team contributions.

•

Is able to provide strong arguments that will change firmly held opinions or positions to ones that will better advance the organization's interests.

•

Anticipates and manages conflicts.

Leadership

•

Communicates a compelling vision that generates excitement, enthusiasm and commitment to Right To Play's vision, mission, purpose and goals.

•

Understands and demonstrates the importance of integration between departments and across functional areas inside Right To Play.

•

Understands and demonstrates the importance of partnerships and collaborative activities between Right To Play and other key international organizations, governments, donors and partners.

•

Adopts a facilitative management style where each person is enabled to contribute their best to the organization and achieve superior outcomes.

KNOWLEDGE AND TECHNICAL SKILLS:

INGO / Development Sector

•

Knowledge and understanding of International Development Sector including key players, key stakeholders, the legislative environment, the research environment, role of United Nations, international literacy and standards of practice.

•

Deep knowledge of the key players in research and evaluation in Right To Play's core thematic areas; research methodologies used in developing countries; variables studied and reported.

Program Evaluation

•

Deep knowledge of evaluation design and data collection methodologies, particularly when working with children in developing countries.

•

Able to analyze both numerical and narrative data and report on findings.

•

Able to teach non-technical staff to collect date rigorously and scientifically.

•

Able to write complete and detailed technical reports in scientific format.

•

Familiarity with the Logic Framework model for program planning, program design and proposal writing.

•

Computer proficiency in word processing, database, spreadsheet and graphics, presentations, and one or more of the following statistical programs: SPSS, STATA, SAS.

Program Implementation

•

Clear understanding of sport for development programming.

•

Knowledge of child growth and development.

•

Knowledge of holistic programming in developing countries.

•

Ability to modify program implementation to achieve superior outcomes.

Knowledge Dissemination

•

Able to communicate technical findings (verbal, written report, presentation, multi media, etc.) to a variety of stakeholders – donors, management & Board, program staff, fundraisers, marketing, governments, universities, peer reviewed journals, colleagues, mass market via web sites.

Human Resource Management

•

Knowledge and skill in delegating work and managing performance of staff.

•

Knowledge and skill at providing technical advice and guidance to other departments.

•

Ability to manage teams to achieve successful outcomes.

Compensation:

We offer a competitive salary and benefits package

Employment Start Date:

October/November 2010

Contract Duration:

Full-time, unlimited term.

HOW TO APPLY:

If you are interested in applying for this position, please send your resume and cover letter to:

hr4@righttoplay.com and kindly include the job title in the subject line.

While we thank all applicants for their interest, only those selected for interviews will be contacted.

To learn more about who we are and what we do, please visit our website at

www.righttoplay.com.

To learn about our Human Resources philosophy, please visit the Careers page at our website.

Was this job of interest to you? Receive 20-25 jobs & consultancies in your email each day via our 3 Months DevNetJobs Value Membership. For only USD 44 for 3 months. Click here to proceed