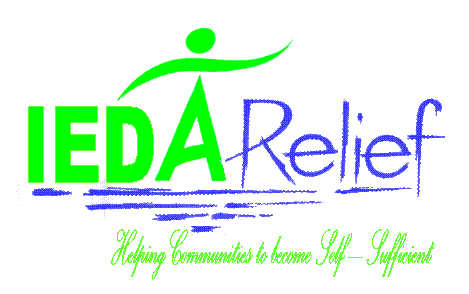 Livelihoods Support Supervisor

Location: Liberia
Last Date: May 20, 2011

Livelihoods Support Supervisor
Duty Station – Liberia
Contract - 6 months renewable contingent on funding
Reference: INT IEDALIB003
PROGRAM SUMMARY:
International Emergency and Development Aid (IEDA Relief), is a Not-for-profit organization specializing in international development and humanitarian assistance and certified 501(c)3 tax exempt organization.
The mission of IEDA Relief is to alleviate the suffering of vulnerable people by tackling the underlying causes of poverty so that people can become self-sufficient and achieve full potential. IEDA Relief works to empower communities in conflict torn and disaster affected areas to save lives, sustain human dignity and restore a healthy community. IEDA Relief serves vulnerable people in need, regardless of their belief, culture, language, custom, sect, ethnicity and/ or political affiliation.
IEDA Relief Liberia, Inc is an implementing partner of UNHCR in Liberia to provide livelihoods support for non – encamped Ivorian refugees and host households in Nimba County. <![if !supportLineBreakNewLine]>
<![endif]>
GENERAL POSITION SUMMARY:
The Livelihoods Support Supervisor assists the Livelihoods Area Manager and Livelihoods Program Officer in the daily smooth running of the agricultural support and vocational skills development component of the IEDA Relief Livelihoods Program in Liberia.
The position is key in determining the provision of quality support to Ivorian refugees and host family households in 16 communities in Nimba valley. Key deliverables will include working directly with field teams to ensure periodic monitoring and evaluation of program functions and enabling collaboration with other organizations.
ESSENTIAL JOB FUNCTIONS:
· With the support of the Livelihoods Area Manager and Program Officer, develop effective strategies for effecting sustainable livelihoods support to non encamped Ivorian refugees and host families in Liberia
· Conduct surveys, need assessments, data and information collection as and when required for the on-going associations program or future project proposals.
· Reinforce direction and leadership in program implementation through a coordinated approach that ensures recognition of different partner approaches towards the improvement of livelihoods for the Ivorian refugees and host community households
· Participate in UN and partner coordination meetings and community meetings to identify priorities.
· Monitor and maintain coordination with the county and community local government and Ivorian refugee heads for all areas in which the IEDA Relief Liberia Livelihoods Program operate.
· Supervise activities of the Livelihoods coordinator on a day to day basis ensuring timely program reports are brought in to the Livelihoods Program Officer for reporting
· Bring to the attention of the Livelihoods Program Officer areas where formal agreements should be made
· Provide technical leadership on the development of livelihood activities including income generation, cash for work and market identification as prioritized by communities and local authorities through technical best practices and targeted trainings.
· Contribute to development and review of country program specific strategic plans.
· Ensure all associations programs activities are in line with government strategy.
· Provide technical input on IEDA Relief's associations programs including partnerships with local NGOs.
· Recruit and supervise associations program assistants including setting associations program tasks to ensure the fulfillment of associations program goals.
· Have a thorough knowledge of the IEDA Relief Livelihoods program support process, including program timeframe and impact
· Coordinate closely with the Livelihoods Area Manager, other Livelihood Program officers, community liason officers, other technical staff, to ensure project activities are integrated into an overall return plan.
· Maintain, monitor and measure project implementation data entry. Keeping the Livelihoods Program Manager and Coordinator informed at all times. Track project impact, standards, and operational compliance.
· Assist with overall program development and future proposals for program follow-on activity.
· Direct supervision and editing of data-entry of program information, as assigned. Develop charts, statistical reports and data-bases as required by Livelihoods Program Officer.
· Other duties as assigned.
SUPERVISORY RESPONSIBILITY:
Position will directly supervise the Livelihoods Coordinator and provide technical assistance to Livelihoods Trainers and Community Liaison Officers
ACCOUNTABILITY
REPORTS DIRECTLY TO: Livelihoods Program Officer
WORKS DIRECTLY WITH: Livelihoods Area Manager and field officers on the ground.
KNOWLEDGE AND EXPERIENCE:
1. Third level qualification in agronomy, agricultural economics, development studies or related field
2. Minimum of three years overseas experience, preferably in Africa working for an international NGO in a management capacity
3. A conceptual and practical understanding of the livelihoods security framework
4. Experience in personnel and budget management
5. Ability to use initiative and work with limited supervision, organized, motivated and reliable
6. Demonstrated knowledge and experience in project Management
7. Demonstrated skills in training or facilitation
8. Ability to work closely with Government structures and other NGOs
9. Excellent written and oral communication skills in English.
10. Ability to write proposals.
11. Proven ability to be an effective supervisor of staff of varying levels of responsibility.
12. Proficiency in Microsoft Windows and Office programs and the Internet
13. Willingness to travel frequently (50% of time) and work in challenging environment
NB: Women are encouraged to apply
How to apply: Please send your application at iedareliefrecruitment@gmail.com and copy noelvay@iedarelief.org , jGadzirai@iedarelief.org
The closing date for completed applications is Friday 20 May 2011.
Due to the urgent nature of this recruitment, applications will be reviewed as they come in and candidates may be invited to interview before the closing date. All candidates are encouraged to submit their applications as early as possible before the closing date. The successful candidate will be expected to take up the post as soon as is reasonably practical.

Was this job of interest to you? Receive 20-25 jobs & consultancies in your email each day via our 3 Months DevNetJobs Value Membership. For only USD 44 for 3 months. Click here to proceed