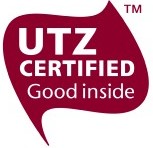 Marketing & Communications Team Member

Location: The Netherlands
Last Date: January 2, 2011

Do you want to be involved in the international dynamics of sustainability, where ideals and pragmatism meet?

UTZ CERTIFIED is one of the largest sustainability programs for coffee, tea and cocoa in the world. Brands which have committed to buying UTZ CERTIFIED products are worldwide market leaders who buy their raw materials in large volumes. Sara Lee, Heinz, MARS and IKEA are, amongst many others, UTZ CERTIFIED partners.

The UTZ CERTIFIED label stands for an improved position of farmers on the market because they have been trained in improving agricultural and business practices which leads to a better quality product, higher productivity and a more efficient use of means. Environmental and social aspects are also equally addressed within the UTZ CERTIFIED sustainability program. This way, farmers become more professional which enables them to negotiate a better price for a better product.

Coffee beans, cocoa beans and tea leaves travel a long road from farm to cup. UTZ CERTIFIED has a unique online traceability system which can trace products back through the production chain, creating traceability and transparency. Through the traceability system UTZ can safeguard that products have been sustainably sourced, giving brands and consumers the assurance they need.

Since its foundation in 2002, UTZ CERTIFIED has developed into a multi-commodity program for coffee, cocoa, tea and palm oil with the ambition to expand into other products in the coming years. UTZ CERTIFIED is headquartered in Amsterdam with representatives in the US, Japan and Switzerland, and works closely with its partner network in Africa, Asia and Latin America. UTZ CERTIFIED is looking for a new team member in:

Marketing & Communications

The team executes the Marketing & Communication strategy, creating visibility and awareness and activating support for the UTZ sustainability concept. You are a hands-on-professional, experienced with combining internal and external roles and you know how to engage people.

With your convincing personality and relationship building skills you contribute to a strong presence of UTZ CERTIFIED. You bring in focus, sensitivity and diplomacy to further develop UTZ's successful global multi-stakeholder communication. Your in-depth understanding of marketing and communication allows you to identify relevant opportunities in an early stage and take action. You support partners in B2C communications.

RESPONSIBILITIES:

·

Projects within the marketing and communication plan

·

Building and maintaining relationships with international key partners

·

Advising and supporting partners in marketing and communication challenges

·

Developing and managing consumer campaigns in cooperation with partners

·

Representing UTZ CERTIFIED at consumer events

CANDIDATE REQUIREMENTS:

·

Proven operational excellence in marketing and communications

·

Fluency in spoken and written English and preferably Spanish; French is plus.

·

Proactive, hands-on, creative

·

Clear communicator, excellent writer, relationship builder

·

Sensitivity to all stakeholders' interests

·

Good project managements skills

·

3 years of relevant international work experience; ideally in FMCG companies

·

Ability to handle multiple priorities and deadlines in a dynamic work environment

·

Master degree in marketing, communications or a related field

This position reports to the Marketing & Communications Manager.

UTZ CERTIFIED offers you a challenging position in a dynamic and international working environment, with entrepreneurial drive and an innovative approach. The position implies incidental travel.

This is your opportunity to create real value for a meaningful global sustainability initiative!

Please send your application before January 2 to

application@duurzaamheidwerkt.nl, mentioning Marketing & Communications in the subject line. For more information about this position please contact Thamar Zijlstra before December 22: +31 (0) 6 41 89 98 46. Please note that Duurzaamheid Werkt will be closed from December 22 until January 2.

More information about UTZ CERTIFIED

Good Inside: www.utzcertified.org.

Was this job of interest to you? Receive 20-25 jobs & consultancies in your email each day via our 3 Months DevNetJobs Value Membership. For only USD 44 for 3 months. Click here to proceed