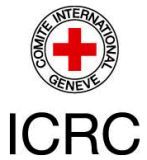 Prosthetist & Orthotist ISPO Level- 1
International Committee of the Red Cross
Location: New Delhi
Last Date: January 23, 2011
Email: icrc.humanresources@gmail.com (Reference: DevNetJobsIndia.org)
International Committee of the Red Cross
_________________________________________________________________

N E W D E L H I R E G I O N A L D E L E G A T I O N

Vacancy Notice

The International Committee of the Red Cross (ICRC) is an impartial, neutral and independent organization whose exclusively humanitarian mission is to protect the lives and dignity of victims of armed conflicts and other situations of violence and to provide them with assistance.

The ICRC Regional Delegation is looking for enthusiastic and motivated personnel for the below mentioned position based at New Delhi.

1. Position Job Title: Prosthetist & Orthotist ISPO Level- 1
Starting date: Immediately
No. of positions: 1
Location New Delhi

2. Scope of the Job
Working place
• Based in New Delhi, with frequents visits to Jammu & Kashmir, Chhattisgarh and Nagaland.
Hierarchical and technical lines
• Under hierarchical authority and technical coordination of the Physical Rehabilitation Program Incharge (PRP Incharge)
• He/she manages technically ICRC Ortho-prosthetists and Physiotherapists Field Officers based in J&K, Chhattisgarh and Dimapur.

3. Main responsibilities
• Assists the PRP Incharge to co-ordinate the development and the implementation of the physical rehabilitation program.
• Upon cooperation agreement between ICRC and partners assists the PRP Incharge to implement, manage and supervise the PRP activities in Jammu and Srinagar, Dimapur and Chhattisgarh in the future.

4. Main Tasks:
• Perform all management duties of the PRP department including: organization of the work, supervision and monitoring of activities and staff performance, stock management, etc
• Maintains a high level of cooperation and coordination with the relevant counterparts.
• Assist the PRP Incharge to prepare the annual operational budget in accordance with the planning for result.
• Assists the PRP Incharge to monitor PRP budget and overall expenditure in J&K, Chhattisgarh and NE.
• Liaises with the administration finance and logistic departments.
• Assists PRP incharge in preparation of monthly and annual statistics

• Reports regularly the constraints and the progress of PRP activities and supervises the stock consumption including turnover and stock level.
• Assists PRP Incharge to prepare the annual order to GVA in addition to the local orders.
• Provides technical support to clinical personnel of the assisted centres with the objectives to improve quality of care and treatment to patients.
• Monitors and implements quality control of the orthopaedic appliances in the assisted centres.
• Supports directorate of assisted centres in the management of centre's activities upon agreement and their request.
• Develops, provides, or organises training courses for rehabilitation professional (P&O) according to needs.
• Carries out any other duties and tasks that may be assigned in relation to India physical rehabilitation program

5. Profile;

• Ortho-prosthetist with five (05) years experience in management, teaching/training and planning skills;
• Computer literate
• Leadership and capacity to supervise the ICRC team and the local staff with an open management style
• Good capacities of oral and written reporting
• Good diplomatic negotiation skills,
• Good strategic and creative thinking and analytical skills
• Ability to work effectively and harmoniously with colleagues and/or partners from varied cultures and professional background;
• Good spoken and written knowledge of Hindi and English.

Applications should specifically cover qualifications, and particulars of present and past employment. Present emoluments/ compensation should be specified clearly (Yearly & Monthly gross & monthly take home). Only short listed candidates will be invited for a written test & interview.

Please send your application and curriculum vitae to the HR Department, icrc.humanresources@gmail.com .

Please mention the subject as "Application for the post of Prosthetist & Orthotist / New Delhi". The last date of receiving applications is 23rd January 2011.